Valentine's Day 2021: Luxury Gifts for Her – The Curated List
19th January 2021
Here you'll find The Curated List of luxury gifts for her – we even share special luxury gifts for the woman who has everything!
It's official: Valentine's Day 2021 is fast approaching. Admittedly, Valentine's Day gifts for her can be a rather daunting prospect when thinking of what to buy. One is conscious to try and strike the appropriate tone and balance between substance and style, while communicating 'I love you' earnestly.
To help you, we've curated some of our unique pieces, along with some other ideas to ensure you can truly display your love and affections, in the most fabulous way possible!
Luxury gifts for her: special keepsakes
Write a personalised, special love note to her and pop it inside one of our keepsake boxes. Here are some ideas of things you can reflect on:
The unique ways that she puts a smile on your face
How she has supported you – perhaps in particular, over the past year
Can you imagine how life would be for you without her?
What makes her so special & irreplaceable to you?
In more certain times, would recommend buying some surprise tickets to add in here too, but perhaps best to hold off while this year is so unpredictable!
Perhaps you can draw a ticket, granting them a few 'favours' that they can cash in over the coming weeks?
Luxury gifts for her: something scented
A truly underrated fragrance brand, and quite different from one she probably knows. From Van Cleef & Arpels' "Collection Extraordinaire", Gardénia Pétale (available from Harrods online) is an enveloping and feminine fragrance based on floral lightness. Inspired by the scented breath of gardenia petal, this scent yields an opulent and warm white flower note which intoxicates the senses.
Luxury gifts for her: perfume tray

Now… luxury gifts for the woman who has everything
How about something floral, with a modern, creative twist
Where modern meets traditional! You can purchase 'letterbox flowers', from Bloom & Wild, including the uniquely curated seasonal favourites from Bloom & Wild. What makes these special, is that they arrive quite literally through your letterbox and you're able to exercise a little creative flair with how you arrange them. With a subscription, you can ensure your Valentine's spirit extends well beyond February – how gorgeous!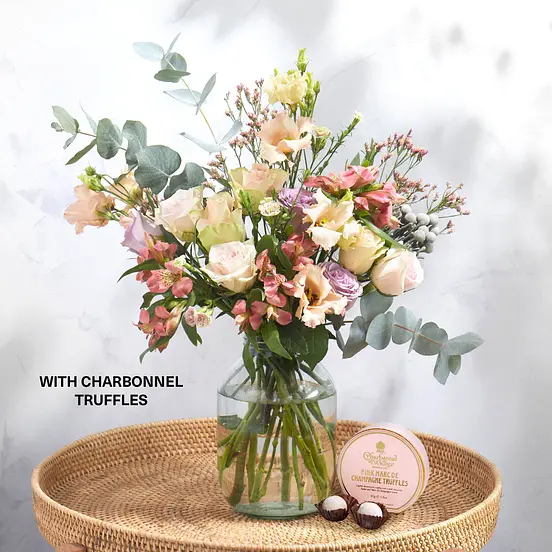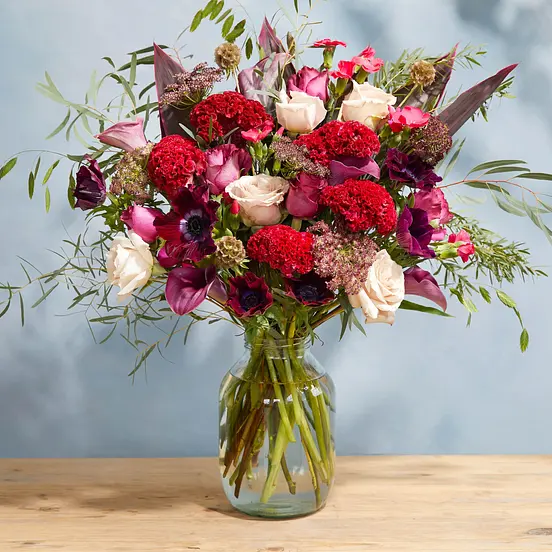 Our vases are hand-made in the UK, inspired by the beautiful coastal shores. Suitable to hold her flowers all year around.
When checking out with Bloom & Wild, we recommend you that choose the Charbonnel Walker Champagne Truffles to accompany… which appropriately brings us to our next suggestion – sweet treats! The full Charbonnel Walker collection is available on their site.
Luxury gifts for her, UK Clients
Why not have take-out, in style? Make it a gourmet affair with a little help from Harrods. From chef-made dishes to fresh, premium ingredients, they will deliver the best of the Harrods Food Halls, straight to your door.
You can also browse the divine Harvey Nichols Food Hampers here.
Alternatively, our complete guide to luxury & indulgent Indoor Picnics is available here.
If you're still stuck on which luxury gifts for her, get in touch with us and we can arrange a private consultation together.
Our love to you all & happy gifting!
Back to Explore